Regular classes and activities
As the country moves into Level 5 Covid-19 restrictions WE ARE STILL HERE FOR YOU and we are moving all our classes and groups ONLINE.
Here is our timetable for October & November which includes 2 new classes: Music Therapy and Art Therapy as well as the return of our popular Creative Writing class.
Our Peer Support Line will operate from 10am – 12pm, phone Aoife on 087 207 4637.
As well as favourites such as our popular Creative Writing Classes we have also some exciting NEW classes added to our online schedule including:
If you are interested in joining any of our online classes, please email claire@limerickmentalhealth.ie or call us on 087 248 5742 with the information provided! Stay safe, wash your hands and we'll see you all soon!
Le Chéile December Timetable
Please note: we will close over the Christmas period from Mon December 21st and will reopen on Monday January 4th 2021.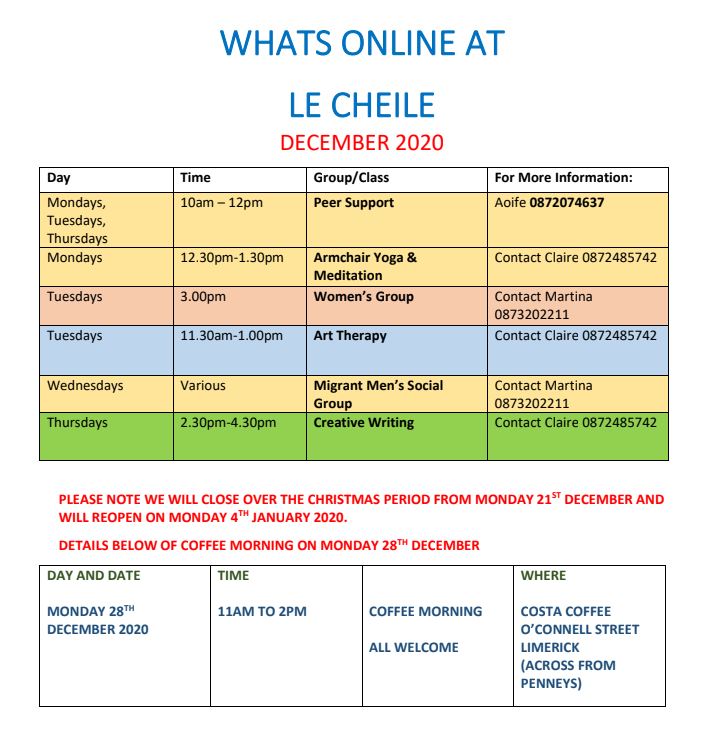 What is the cost?
We ask our members for a voluntary contribution of €2.00 when attending classes in person to contribute to the cost of tea/coffee, biscuits & materials. There is currently NO FEE FOR ONLINE CLASSES. The fee may be more for specific classes, occasional trips and our annual trip but we will always let you know any costs in advance.
We run other classes including VEC classes throughout the year.
Subscribe to our regular newsletter, to be notified of our new classes and timetable and keep up to date with our news.