As the country moves into Level 5 Covid-19 restrictions WE ARE STILL HERE FOR YOU and we are moving all our classes and groups ONLINE.
Here is our timetable for October & November which includes 2 new classes: Music Therapy and Art Therapy as well as the return of our popular Creative Writing class.
Our Peer Support Line will operate from 10am – 12pm, phone Aoife on 087 207 4637.
We will be posting a more detailed update on what the new restrictions will mean for our services over the next 6 weeks along with a list of supports and services that will be available to anyone struggling so keep an eye on the blog over the next few days.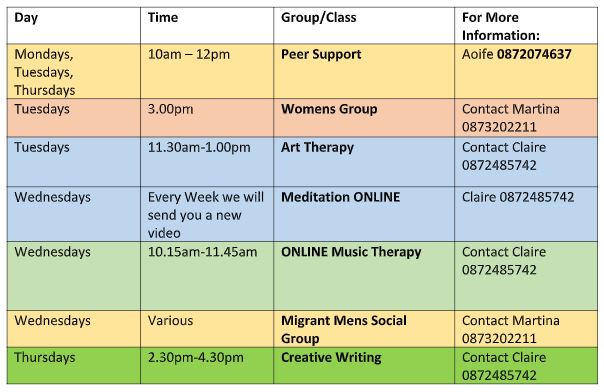 If you are interested in attending any of our classes please contact us at 087 2485 742 or email info@limerickmentalhealth.ie.
If there are any activities or classes you would like to see at Le Chéile in the future please let us know!
Email claire@limerickmentalhealth.ie with your suggestions. 
Stay safe, wash your hands and we'll see you all soon! #mentalhealthawareness #mentalhealth #health #work #wellness #care