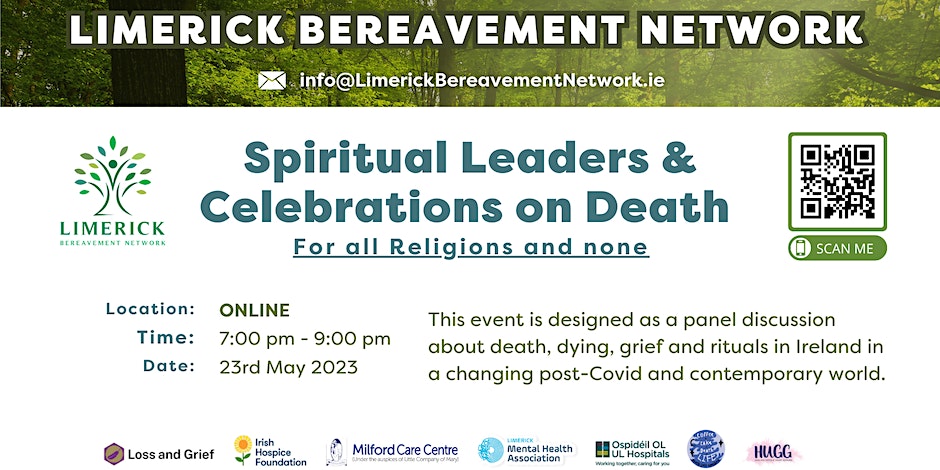 'Spiritual Leaders & Celebrations on Death: For All Religions and None'
Date: Tuesday 23 May 2023
Location: Online – Zoom
Time: 7.00pm to 9.00pm
Limerick Bereavement Network (Limerick Mental Health Association, HUGG, Milford Care Centre, Death Cafe Limerick, Loss & Grief Research Group at Technological University of the Shannon and University Hospital Limerick) are holding a free online discussion of death and grief in contemporary Ireland.
'Spiritual Leaders & Celebrations on Death: For All Religions and None' takes place on May 23rd from 7-9.00pm.
The event is free and takes place on ZOOM but places are limited.
How to Register
Registration is via Eventbrite https://www.eventbrite.ie/e/for-all-religions-and-none-spiritual-leaders-and-celebrations-on-death-tickets-557727537077
Panellists include:
Redemptorist priest and author Tony Flannery
*Chair of Atheist Ireland, Mick Nugent
*Rev. Dr. Leonard Madden, Church of Ireland – Limerick Parish
*Dr. Rizwan Khan, Kerry Islamic Outreach Centre
*Judith Ashton, Humanist celebrant
Facilitator for the evening is Dr. Lisa O'Rourke Scott, Chair of Limerick Mental Health Association.
Bring your questions and ideas to what we hope will be an evening of open
exchange, dialogue and learning for all.
For more information contact the Limerick Bereavement Network at
limerickbereavementnetwork@gmail.com or call Limerick Mental Health Association at 061-446-786.