Meet Ian Hackett, LMHA's new Manager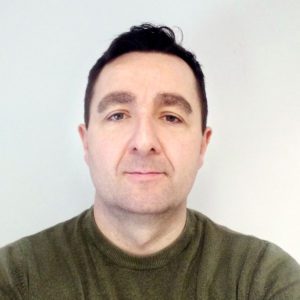 LMHA are delighted to announce that Ian Hackett has joined the team of Limerick Mental Health Association and has taken up the position as Manager for the Association.
Ian is an experienced leader and manager having spent the past 22 years in the Irish Defence Forces having served in Africa, the Middle East and Balkans. Ian has spent the last 10 years working in administration and training with responsiblity for duty rosters, payroll and planning and conducting training for over 100 troops. Ian also has qualifications in Event venue and media management.
I am thrilled to see an opportunity to join the LMHA team and I am honoured to contribute to an organisation that's leading the charge on supporting personal recovery in individuals who experience mental health difficulties.

I personally identify with Limerick Mental health associations core values and I share the belief that positive mental health within Limerick City and county needs to be promoted now more than ever with the current pandemic never mind the day-to-day stresses of life every person goes through.

Ian Hacket, LMHA Manager
Note from the Chair
It is my very great pleasure to welcome our new manager Ian Hackett to Limerick Mental Health Association. Ian is highly qualified to lead our team at LMHA having spent many years as a manager and leader in the defence forces. He has come up with many new and exciting ideas and initiatives for LMHA going forward, so watch this space. I am really looking forward to the new energy he will bring to the service and am already very impressed with his dedication to improving mental wellbeing in Limerick city and county. As we emerge from the pandemic, I am excited to see what we will do this year. We all have great plans for our 20th Anniversary celebrations this year, and Ian will be ensuring that they are indeed memorable.

I would also like to give my warm and heartfelt thanks to the wonderful Elizabeth Stundon who temporarily stepped down as Hon Secretary to the board to run the service as we emerged from lockdown. Elizabeth has done a wonderful job of making sure everything is organised in LMHA which will give Ian the most wonderful start.

Lisa O'Rourke Scott, LMHA Chair
Note from the Acting Manager
For the past few months, I stepped in as acting Manager for Limerick Mental Health Association. And now I am delighted to hand the keys and responsibilities over to our new and very accomplished Ian Hackett. I have really enjoyed the role and I learned more about the Association which I can bring with me as I rejoin my role as secretary to the Board. I have made many contacts with organisations in the region but also with many of our members. I have learned how valuable LMHA is for people and going forward I am sure Ian will continue to strengthen the work and support we provide.

All the best, Elizabeth.

Elizabeth Stundon, Acting LMHA Manager
Meet Jane Stundon, LMHA's new Office Administrator
We also welcome Jane Stundon who joined the team in January as Office Administrator. Jane has volunteered with the Special Olympics and previously volunteered with LMHA
before joining the staff team. Jane is pleased to join the team and will provide all admin duties and support contact to members, stakeholders and local communities.
I am also delighted to welcome Jane Stundon as our new Office Administrator. Jane has been doing a fantastic job of managing our administrative functions and we are really happy to have her working in the office supporting everyone.

Lisa O'Rourke Scott, LMHA Chair
Congratulations and welcome to both!