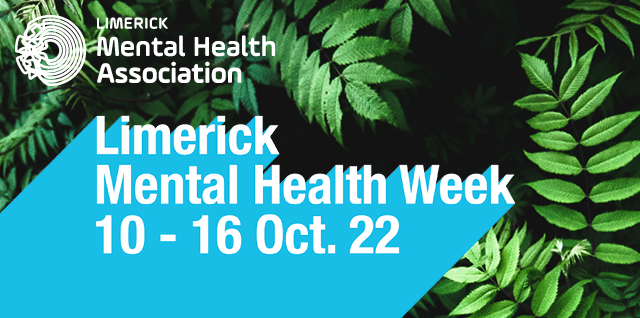 Limerick Mental Health Association are delighted to bring you our programme of events for Limerick Mental Health Week 2022 (10th – 16th October).
Our packed week of events include in-person and online talks on mental health and wellness, self-care workshops, coffee mornings, parent and toddler storytime at many of our local City and County Libraries and the return of our Choral Singing at St Mary's Cathedral which has been so popular in the past. We will also be holding a Family Fun Day on Bedford Row on Saturday Oct 15th which is also an information day with all of Limerick's support services present on the day.
Book online for any of these FREE events on our Eventbrite page: https://www.eventbrite.com/cc/mental-health-week-2022-1174459
Invitation to local businesses and organisations:
This year LMHA would like to encourage local businesses and organisations to hold their own mini event to promote positive mental health for Limerick Mental Health Week. Some ideas are: holding a coffee morning, 15 min walk, yoga class, staff get together or a 15 min mindfulness/ meditation
*Please note: some events may be subject to change. This page will be updated so check back for the latest info and keep an eye on our social media channels for announcements.
Want to support LMHA? Find out how here…
---
Limerick Mental Health Week 2022 is brought to you with thanks to our Partners and Sponsors. Graphic design for Limerick Mental Health Week kindly provided by The Happy Tea Company.