The 2023 Limerick Interfirm Football Tournament Final was a momentous occasion that brought together employees from various corporate teams in Limerick while raising funds for LMHA. The tournament took place on the 21st of July at the iconic Jackman Park, providing an excellent venue for thrilling football encounters and fostering a sense of community among the participants.
Numerous teams participated in the tournament, showcasing their passion for the sport and commitment to the cause of promoting positive mental health. The dedication, sportsmanship, and teamwork displayed throughout the event were outstanding and set a positive example for the entire community.
Among the notable teams that took part in the competition were:
Energy Retrofit

NetCore Solutions

AMCS

BD (Becton, Dickinson, and Company)

Cook Medical

Northern Trust

Lidl

Atlantic Aviation

Kirby Electrical

Leo Lynch

ERS (Energy Recruitment Solutions)

Apex Group

Edwards Lifesciences

Stats Perform

Q3 Security

Westrock
Each team competed fiercely during the tournament, with a common goal of raising funds to promote positive mental health initiatives across the city and county. Their collective efforts off the field were as crucial as their performances on the field, demonstrating a strong sense of community and altruism.
The winners of the Plate were Q3 Security, who beat NetCore Solutions in a well fought match where both sides  exhibited remarkable determination and skill throughout the tournament. They deserve hearty congratulations for their achievement.
The triumphant team that lifted the Cup was Westrock who beat Pro Energy Retrofit in the cup final. Both teams displayed exceptional sportsmanship and teamwork to emerge as the champions. Congratulations to Westrock for their outstanding performance!
On behalf of the entire community, I extend heartfelt congratulations to all the participants and winners of the Limerick Interfirm Football Tournament Final. Your dedication, hard work, and fundraising efforts have made a significant impact on promoting positive mental health in the city and county. Your commitment to both the sport and the well-being of others serves as a shining example for all. Thank you for being positive role models and making the 2023 tournament a resounding success.
Here are some pictures from the tournament, capturing the enthusiasm and sportsmanship displayed by the participants:
Kirby Electrical Team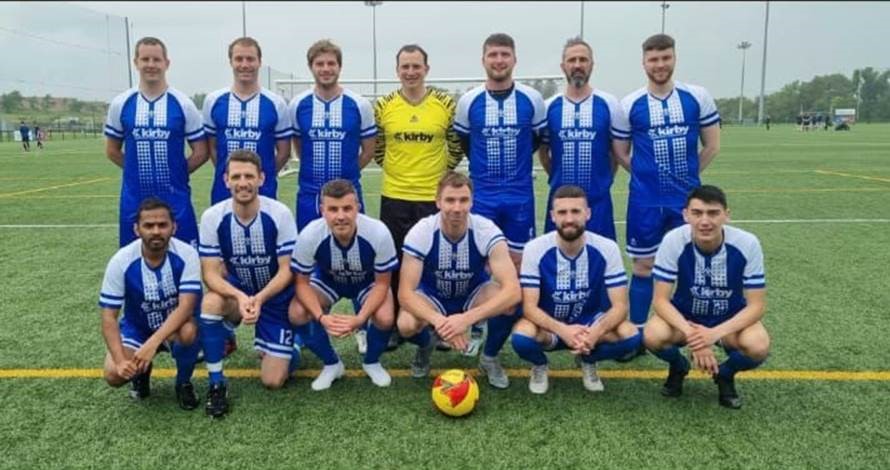 Action shots from the Q3 Security and Northern Trust game