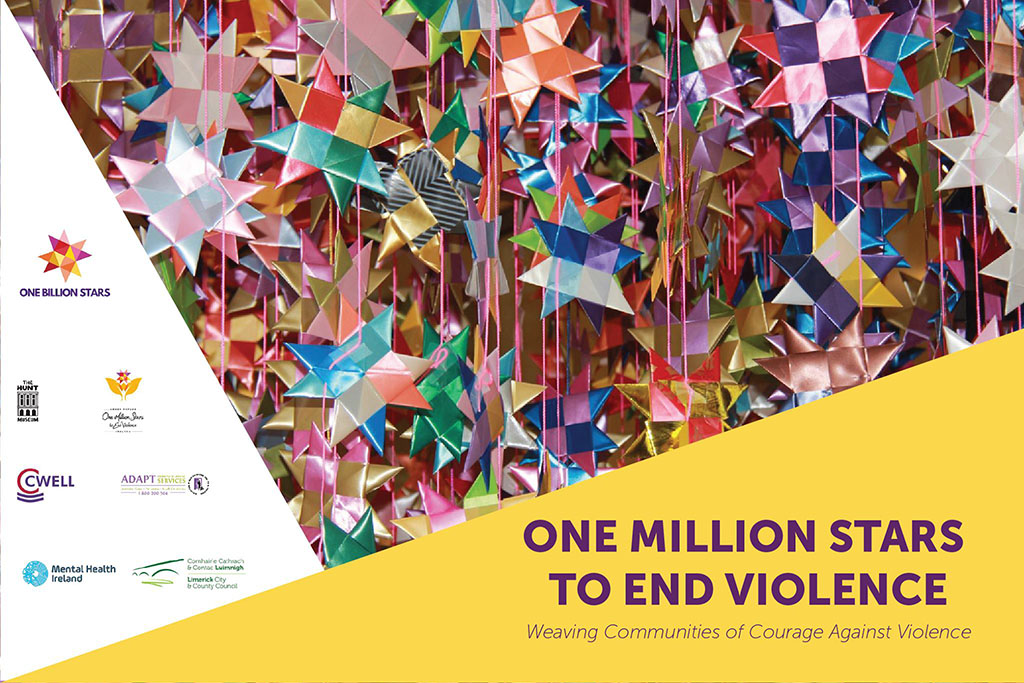 #COVID19 has led to an upsurge in domestic abuse in Ireland. Domestic violence is worsening as the coronavirus pandemic has continued, with women now coming forward to seek help in record numbers, disclosing increased levels and severity of violence as they are at home more with their abuser.
The Hunt Museum has teamed up with ADAPT Domestic Abuse Services, Mental Health Ireland, CWELL, Limerick City and County Council and Lawless Flowers to develop a One Million Star weaving network in Limerick. Launched on #InternationalWomensDay the target is to weave 10,000 stars by December 2021 to create a star installation art display at Hunt Museum.

By coming together, we will show solidarity towards these women and rasie awareness and highlight the supports available through ADAPT Domestic Abuse Services.
This project aims to bring communities together and engage in a creative project that demonstrates our support and solidarity with those who experience violence, particularly domestic violence.  The star is a symbol of light, hope and solidarity and together, through star weaving, we can collectively take a stand towards ending violence in Ireland.  Through this Limerick project, we aim to weave 10,000 stars that will be displayed in a beautiful installation in the Hunt Museum during December 2021.
Follow The Hunt Museum, ADAPT Domestic Abuse Services and the Ireland Star Weavers to End Violence on Facebook for more information.