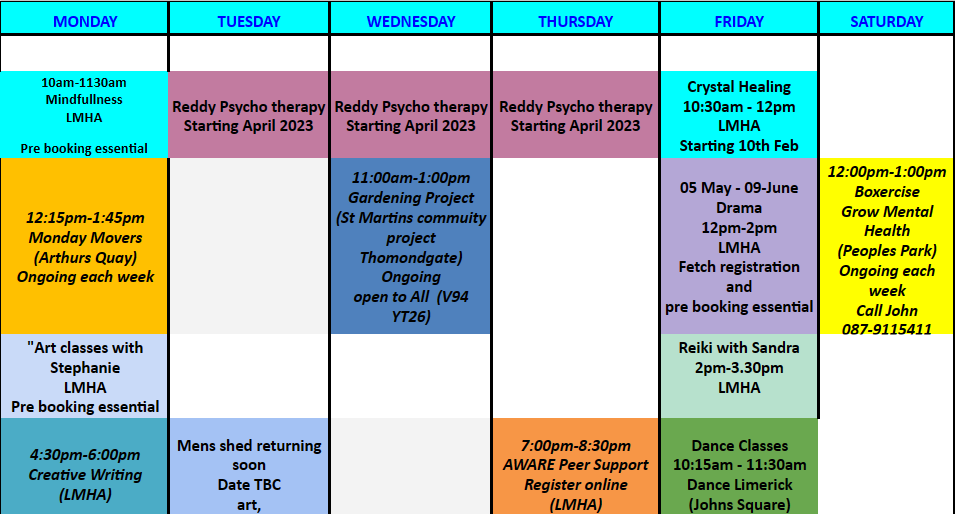 We are pleased to announce that we have a wide variety of courses available to the public, aimed at promoting positive mental health and wellbeing. These classes are designed to cater to people of all backgrounds 18 and up and we strongly encourage everyone to give them a try.
Our mindfulness classes are a great way to learn how to stay present in the moment, reduce stress and anxiety, and improve overall mental health. Our dance classes are also a great option for anyone looking to improve their physical and mental wellbeing, with various levels and styles available to suit individual needs.
For those interested in more creative outlets, we have art classes available where you can express your feelings and emotions through various mediums. We will also have music therapy classes returning soon, where you can explore the healing power of music and learn how to use it as a tool for self-care.
In addition to these classes, we also have qualified peer support available for anyone looking for support who may be experiencing mental health struggles. Peer support provides a safe and supportive environment where people can share their experiences and receive guidance and encouragement from their peers.
NEW MEMBERS ARE ALWAYS WELCOME AND CLASSES ARE OPEN TO ANYONE OVER 18!
If you want to attend a class or would like to be included in our email list for communication, please send your details (name/phone/email) to info@limerickmentalhealth.ie.
Spaces for some classes are limited so please book in advance to secure your place: info@limerickmentalhealth.ie or 061 446786
Make sure to keep an eye on our social media channels for updates and new announcements!