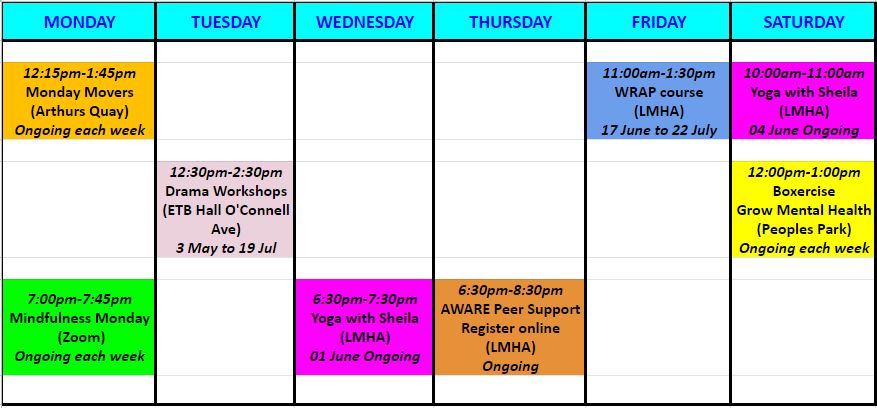 Limerick Mental Health Association are delighted to welcome our new volunteer Yoga instructor Sheila Benatti. Sheila is a very dedicated and highly educated with 4 qualifications in Yoga but to name a few. Sheila will be holding a Yoga Taster for all levels of ability on Wednesday 1st June from 6:30-7:30 pm and on Saturday 4th of June from 10-11am. If you want to book a spot contact us on info@limerickmentalhealth.ie or call 061 446786.. spaces are limited so hurry to book your place.
Now that our Dance Classes with DL bridge Dance Limerick are finished I would like to congratulate everyone that took part in a great programme with special thanks to Phillipa our fabulous Dance Instructor and I look forward to seeing everyone in the "Road we live on" which will be a live performance in Dance Limerick's fabulous theatre space to celebrate the area and community on Saturday 18 June 2022.
Our schedule for June includes Mindfulness Mondays, Monday Movers, New Yoga Classes, Drama Workshops and Boxercise at the People's Park in conjunction with GROW Mental Health.
WRAP course resuming on June 17th
We will be running a WRAP course for members with limited space from the 17th of June to the 22nd of July so make sure you contact us to secure your place.
NEW MEMBERS ARE ALWAYS WELCOME! If you want to attend a class or would like to be included in our email list for communication, please send your details (name/phone/email) to info@limerickmentalhealth.ie. 

Keep an eye on our Social Media for new announcements.
---
Please note: In line with NPHET mask wearing is no longer mandatory and it is now at the individuals choice. We therefore ask all members to respect each person's individual choice.