Come dance, sing and act with us at Dance Limerick in conjunction with LMHA.
While all our usual classes are on hold for the month of August while our staff and volunteers take a well-earned break we are delighted to announce an extra special collaboration with Dance Limerick. Starting on the 18th of August, we will be hosting a dance class aimed at promoting physical activity and mental well-being. Dancing has proven to be an excellent way to lift our spirits and enhance our mental health, and we encourage everyone to join in and participate.
Together with Dance Limerick artists and drama facilitator Zara Starr Madden, we will move our body to the rhythm of the music, make new friendships and connections and express ourselves in a safe space.
This class will be on in Dance Limerick Studios at No 1-2 Johns Square, Limerick from 09.30-11am and will run from 18 Aug – 6 Oct.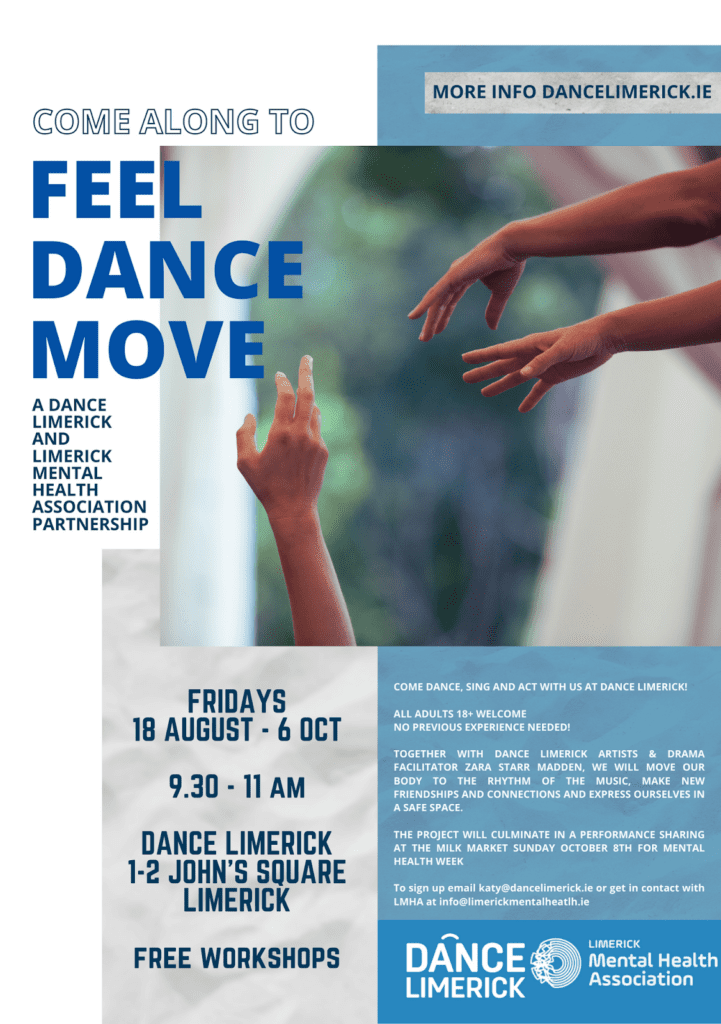 All adults 18+ welcome.
No previous experience needed
The project will culminate in a performance sharing at the Milk Market on Sunday Oct 8th for Limerick Mental Health Week.
To sign up email info@limerickmentalhealth.ie or katy@dancelimerick.ie.