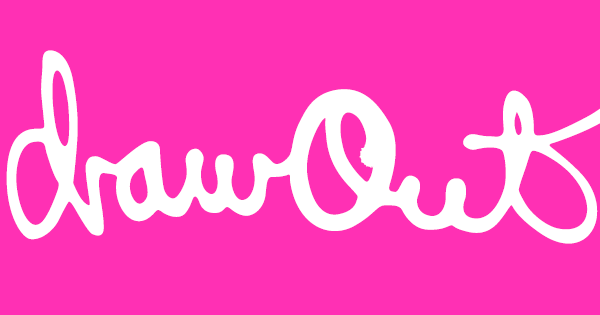 Draw Out Urban Art Initiative outlines the partnership created with Limerick Mental Health Association during Limerick Mental Health Week and the stories behind the artists that created the wonderful street art.
By Emma O'Brien
October 13 2020
Draw Out Urban Exhibitionists and Limerick Mental Health Association Joined Forces to Bring two evocative Murals to Limerick City Streets for Limerick Mental Health Week (LMHW)

LMHW was established by Limerick Mental Health Association in 2005. From 2006 mental health associations and groups throughout the Midwest Region joined in on the organisation of the weeks scheduled events, with a team now made up of 25 charities, community groups, the HSE, An Garda Síochána and businesses across the city and county.
Claire Flynn, Project Manager for Limerick Mental Health Association said that when trying to find ways to promote positive mental health during Limerick Mental Health Week 2020, 'we had to think outside the box.'
'Over the 17 years that we have been co-ordinating events for Limerick Mental Health Week, we have always tried to be innovative, and this year our innovative muscles were challenged.'
When asked about the involvement of Draw Out, the Limerick-based urban-art initiative, Claire added: 'We were amazed and delighted with the fabulous street art already in Limerick, we were particularly inspired by the "Limerick Lady" series. This inspired us to commission murals to highlight a positive message during this pandemic. Our brief to the artist was to highlight how inspiring the people of Limerick were over the past 6 months in coming together to support each other. Seeing neighbours supporting neighbours, strangers becoming friends and the strength of community spirit was amazing.
'The final result of two beautiful murals has been so much better than we anticipated. We hope they bring hope and comfort to the people of Limerick as we continue to survive and support each other through the remainder of this pandemic. We are all in this together and we will get through this.'
Limerick's internationally recognised urban art festival, Draw Out, collaborated with Limerick Mental Health Association to deliver these two very different but equally as stirring pieces by artists Emic, a Belfast based artist with his piece titled 'Strength in Fragility' on the Widow's Alms House, Nicholas Street, and local artist Jonathan Noonan's uplifting message 'We are all in this Together' on the junction of Athlunkard Street and Island Road. With a strong community based consciousness, Draw Out aims to deliver art for the masses, involving community, inclusivity and a strong sense of connection. Choosing Emic and Jonathan Noonan to execute these pieces was no accident.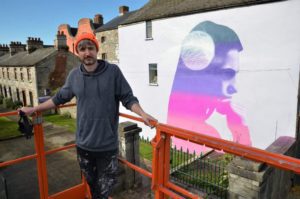 Emic has been actively contributing to the ever-growing Street Art scene in Ireland and abroad since 2012. Emic paints primarily on walls using aerosol and combines photorealism with abstraction in his work. Known for his evocative figures, his artwork is mainly inspired by urbanism and man-kinds place within the world.
Emic described the inspiration for his piece as being 'designed to have a calming influence by using specific colours that work harmoniously with each other. The figure is representative of people as a collective as opposed to the individual. The feather is symbolic of our minds hopes and aspirations but also of its delicateness.'
When speaking of Mental Health Week, Emic states 'it's been a challenging year for all of us. It's important that we look out for each other and know there are places we can turn to when in need. Art and especially public art have an important role to play in the battle for positive mental health. Mural art can be the first point of contact for someone who is struggling. Value it.'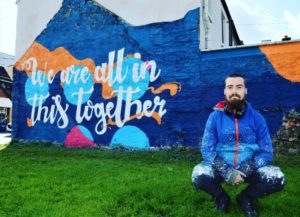 Jonathan Noonan, a painting graduate of Limerick School of Art and Design, is a Limerick based artist. Jonathan has actively been creating urban artworks since 2013, using his complementary skillsets in contemporary art, combining traditional painting methods with his street art practice. Jonathan has concluded a range of projects around Limerick City, including "Siona"; a commissioned work for Limerick City Council and Limerick Civil Trust located on Bridge St., as well as taking part in Make A Move Festival, Limerick City of Culture 2014 and various Draw Out projects over the years.
Jonathan said: 'It was a great opportunity to be contacted to design and create a mural for Athlunkard St., Limerick, in collaboration with Draw Out, especially when the theme was centred around Limerick Mental Health Week.
'From living in the area over recent years I had the responsibility as an artist to do my community justice, while having the chance to relay a poignant message that referred to current times. The mural would remind us of the struggles of isolation and uncertainty, but also how resilient and strong the Limerick community can be.' Jonathan added: 'the mural reminds each passer-by that there is so much hope, and that they are not alone and that as a kind and strong community we can beat anything together.'
Jonathan wanted to highlight the difficulties placed on everyone throughout this period of restriction. 'Isolation has affected everyone differently and my hope is that this mural will help share awareness of everyone's ups and downs over the last few months and that they can reach out for support at any time thanks to our neighbours, friends and support services.'
Draw Out has brought some of the world's finest street artists to Limerick City over the past nine years, re-imagining and transforming the city's derelict sites, reversing the relationship between artist & audience and marking Limerick City as a national and international focal point for the highest quality street art in Ireland. Draw Out will continue to bring fresh murals to the streets of Limerick throughout the month of October, so keep an eye on socials for teasers and reveals.
Draw Out Director Catherine O' Halloran said: 'We are overjoyed at the standard of work delivered over the course of the week. It has been thrilling and has offered some much-needed joy back into the community. It has been a difficult few months for many of us so it was an absolute pleasure to collaborate with Claire and the Limerick Mental Health Association team to bring a mural that can speak to these challenges and inspire hope for people. For me the pieces have an almost healing presence, and they were delivered with such sensitivity and compassion, resulting in emotive murals with a powerful impact. We hope to continue our work this month and showcase some more amazing talent and skills.
LMHW calendar for 2020 includes workshops on building resistance, personal talks around recovery and hope, self care and mindful yoga, mediation, music, check out their socials for daily updates.
Draw Out: @drawoutlimerick (Instagram) DrawOutLimerick (Facebook) and @DrawOut (twitter) #DrawOutLK
Emic: @emicartist
Jonathan Noonan: @Bold_Details
LMHA: @LimerickMHA @GROW_Ireland #LimerickMHW
For more information contact:
Claire Flynn, Limerick Mental Health Association
Tel: 087 2485742 or 061 446786 or email: claire@limerickmentalhealth.ie
Catherine O' Halloran, Draw Out Urban Exhibitionist
Tel: 083 8827455 or email: info@limerickcitybuild.ie
Click here to watch Johnathan Noonan talk about his mural on Athlunkard Street for LMHW – https://www.facebook.com/watch/?v=2426632080972748
(Credit Limerick Voice on Facebook)