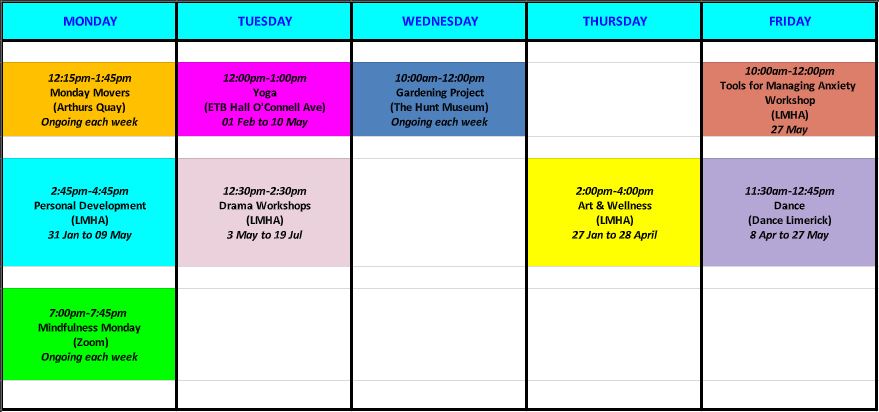 Our free classes are continuing as scheduled including Mindfulness Mondays, Monday Movers, Weekly Chair Yoga,  Drama Workshops and Dance Workshops. We have a new Gardening Project every Wed and a Tools for Managing Anxiety workshop on May 27th. More details below.
View our full programme of free classes currently running.
Our Confidence Building class has now finished and we would like to thank our facilitator Anita for the excellent delivery. We were happy to see the participants develop their confidence and eagerly engage each week with Anita and and each other and we are looking forward to having Anitaa back again in the near future.
'Tools for Anxiety' is a 2 hour workshop from 10-12 on the 27th of May.

We have a New Gardening Project in conjunction with the Hunt Museum which is on every Wednesday from 10am. People will meet at the curved benches at the back of the museum with the facilitator Lucy. 

The Dance Workshop is now extended as we will be incorporating the Dance Workshop into a production that Dance Limerick are doing called "The Road We Live On" which will take place on Saturday the 18th of June at Dance Limerick, St John's Square. You can find out more info on that performance here.  
Please keep an eye on our socials and website as we have other classes/programs and services coming soon and we will post them online once they are confirmed.
NEW MEMBERS ARE ALWAYS WELCOME! If you want to attend a class or would like to be included in our email list for communication, please send your details (name/phone/email) to info@limerickmentalhealth.ie.