We have a busy month this March with lots of new announcements!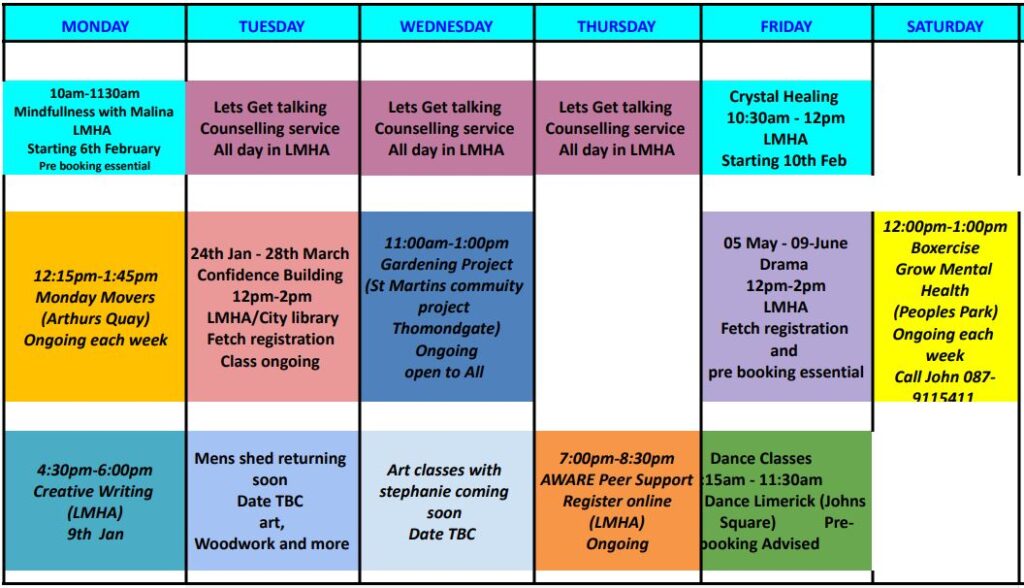 In relation to classes we are delighted to say we have started a new Crystal Healing class which is on every Friday in LMHA and we have also started a new Mindfulness class that takes place in house every Monday at 10am.
Make sure to keep an eye on our web page and socials for a more update.
Spaces for some classes are limited so please book in advance to secure your place: info@limerickmentalhealth.ie or 061 446786
Join us in the St Patrick's Day Parade
I would also like to wish everyone at home and abroad a happy St Patrick's Day and invite you all to partake in this year's parade with us, If you are interested in walking in this year's parade with LMHA please email us on info@limerickmentalhealth.ie or call us on 061446786. Please have your name in by March 10th at the latest.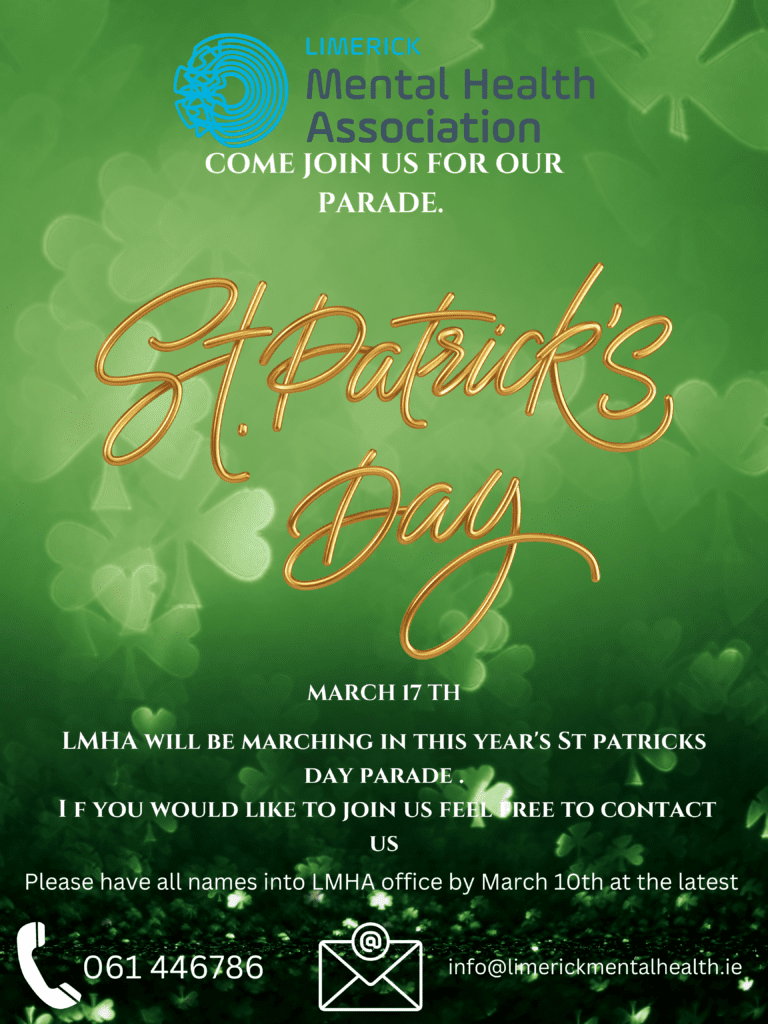 Hello Campaign 2023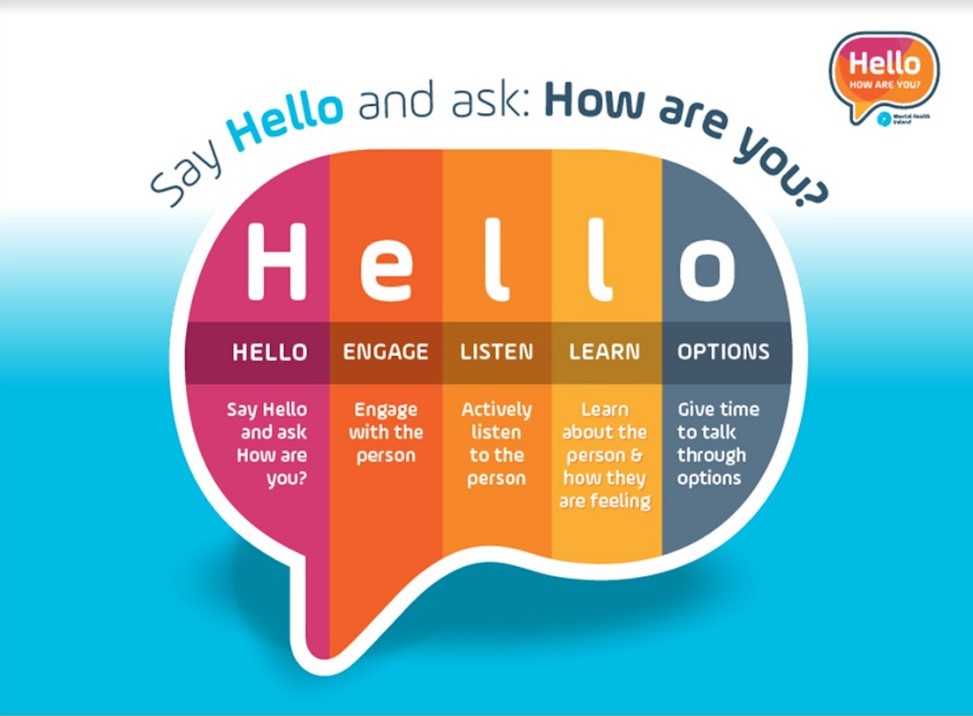 At the end of march we are again holding our annual HELLO campaign in line with Mental Health Ireland. This campaign is to encourage people to get out and say hello to your neighbour, friend you haven't spoken to in ages or your work colleague that is always busy. We would encourage everyone to take that 15 – 20 mins out of their day and just follow the HELLO acronym which stands for say "Hello, Engage with the person, Listen to what they say, Learn from what they say, and then you have Options to reply". If you are in a school or in work why not organise a short walk or a tea/coffee morning or even a brief yoga session just something to get people engaged.
New Bereavement Network for Limerick
We have also linked in with multiple agencies across the City to start a non specific bereavement network. Our first event was on the 28th of March and there was great support. If you wish to attend any of our other events please keep an eye on our social media and web page for more info.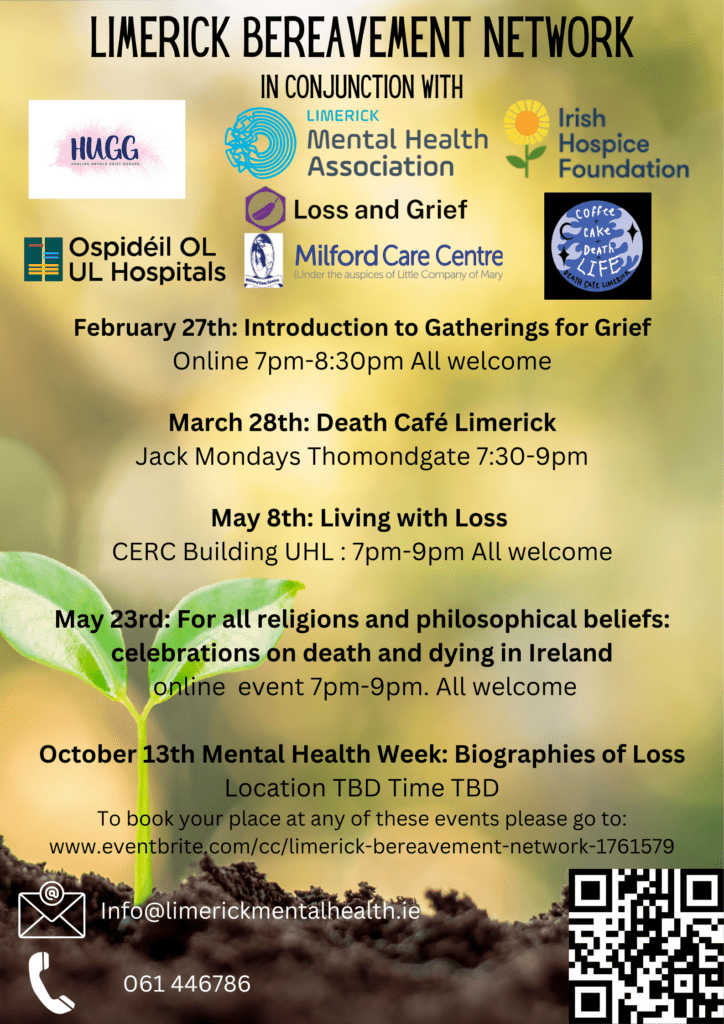 Placement students skydiving to raise funds for LMHA
Poppy and Roneta are students from UL on placement with LMHA and they are raising funds for LMHA by doing a SKYDIVE in May. Read more about it here, we'd love you to support them by donating!
---
NEW MEMBERS ARE ALWAYS WELCOME! If you want to attend a class or would like to be included in our email list for communication, please send your detail(name/phone/email) to info@limerickmentalhealth.ie.
How to become a member? Simply email info@limerickmentalhealth.ie with your name, email address and contact number and let us know which class or group you'd like to attend. That's all there's to it!

Keep an eye on our blog and follow us on Social Media for up to date news!