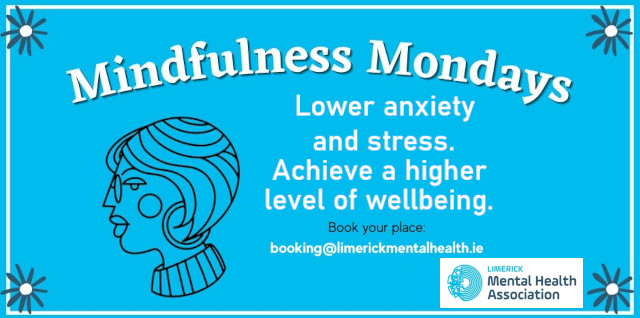 As we move forward into October in preparation for Limerick Mental Health Week, we are happy to share some details on a number of upcoming classes you'll be able to look forward to such as The Monday Mindfulness Class and Men's Shed.
Below are some important details relating to when and where these classes will take place, they're a great opportunity to meet new people and for some self-care, so we would love to see you there if possible!



Women's Group
Resuming Wednesdays 12PM to 1PM from September 29th



Admission is Free




Monday Mindfulness Class
Resuming Online on Mondays at 7PM from October 4th



Registrations are required and can be made at

Admission is Free




Monday Walkers
Resuming Mondays at 12:15PM from October 4th



Leaving from Arthur's Quay, walking to places of interest around Limerick with a gentle mindfulness.



All fitness levels are welcome.




Men's Shed
Resuming this week, time and date TBD.



Will take place at the Hunt Museum.




We welcome all new and returning members and hope you look forward to attending these classes and more in the future.
To book your place or for details on more upcoming classes and groups please email booking@Limerickmentalhealth.ie