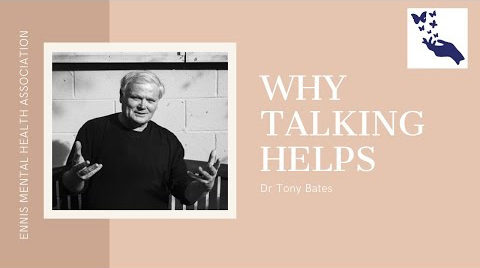 "These days we hear every day that we should talk about our troubles, but how does talking help? It doesn't make our problems go away. Sometimes talking can make us very upset. And yet talking is what we human beings have been doing since time began to help us manage our lives."
Our friends at Ennis Mental Health Association recently held an evening in conversation with Dr Tony Bates on "Why Talking Helps".
With Tony's kind permission, they have shared a recording of the talk on their website. and on their youtube channel.
Dr Tony Bates is a Clinical Psychologist, who was Head of Psychology for 30 years in St James's Hospital Dublin, and established the MSc Cognitive Psychotherapy in TCD until 2006. He founded Jigsaw (The National Centre for Youth Mental Health) in 2006 to serve young people and their mental health needs.
In this presentation, Dr Bates looks at why talking helps, what difference it makes, what helps us open up and share our pain, and what makes it so hard to talk at times.
If you missed the talk, or if you would like to watch or listen back to it again, please simply click on the link below, and enjoy!
Videos – Ennis Mental Health Association (ennismha.com)
Shared with kind permission from Ennis Mental Health Association. Please visit their website to read more about the work they do in the Clare community.