Limerick Mental Health Association promotes positive mental health across Limerick City and County whilst supporting the community through peer-led activities and groups. One of the many areas of work run by Limerick Mental Health Association is the various groups. Groups and Classes are run under Le Chéile meaning 'together'. The Le Chéile Peer Support Project provides support, friendship and encourages members to get in touch with their creative sides.
In today's blog, highlights from our recent kayaking event are discussed. Two of the numerous groups hosted by LMHA were present for the outing. The Young Men's Shedders is Limerick's first ever Men's Shed aimed towards a 20-30 demographic. Its goal is to create a social space where young men can get together with people their own age and gain new connections and experiences while engaging in various leisure pursuits. The Migrant group has similar aims and is designed to allow newcomers to Ireland to have a social outlet while they are finding their feet. As both groups have similar goals, we combined them for the kayaking tour. This decision proved successful as a strong sense of camaraderie blossomed between the groups upon the river Shannon that day.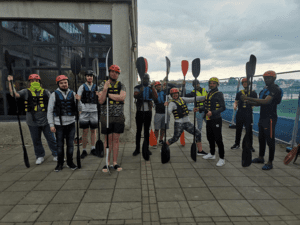 Stepping out of our comfort zone.
Only two of the members present had previous kayaking experience which at first caused a lot of nerves, but this was quickly overcome when the tour began and the members were free to enjoy the river. Overall, the new experience was a great opportunity to calm the mind while having fun, taking away the stresses of everyday life by trying something new and bonding with new people.
"Often these activities can help us to be mindful and allow us to remain in the present moment" – Jake
Perseverance
All members are equipped with life jackets and are accompanied by fully trained lifeguards, so while the thought of falling into the water can be intimidating, we are fully prepared for all eventualities and  the tour is perfectly safe. Just ask Corey – he fell in the water near the beginning of the tour, then rejoined the group with a story to tell! Corey's very positive attitude gave us all a major morale boost which even inspired some of us to race each other.
"If we took a bet on who would fall in first, I would have made a fortune" – Corey
Camaraderie
There is no doubt that the kayaking tour was a positive experience for everyone involved. We got to try something new, meet new people and have fun exercising at the same time. After the tour ended, we were treated to a Turkish food picnic, with foods accustomed to both cultures, behind the Hunt Museum while overlooking the river. We bonded by sharing our experience of the event and had a laugh while eating delicious food. Members from the Young Shedders group and the Migrant group are eagerly anticipating future events in which both groups can interact together again. The migrants integrating with the Irish Shedders has allowed them to meet local people and develop friendships and networks, while the youth shedders gained some experience of the migrant life in Limerick city.
"It was such a fun-integrated event" – Martina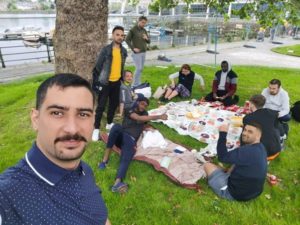 If you are interested in joining the Young Shedders group, the Migrant group or any of the numerous other groups that LMHA offers, please don't hesitate to contact us.
Call Us: 061 446786, Mon- Thurs 11am-4pm.
Email: info@limerickmentalhealth.ie
Drop in: Currently postponed due to Covid-19
---
Written by Adam Grace, a UL Co-op student currently on placement with LMHA.