Article written by Dr. Tina Storey – Board member and peer volunteer at Limerick Mental Health Association.
Limerick Mental Health Association (LMHA) was founded in 2002 to promote positive mental health in the Limerick area. Since the foundation of LMHA in 2002, the landscape of mental health services has changed dramatically in Ireland. In particular, best practice is now to have people with lived experience of mental health difficulties ("peers") involved in designing the services, training and support programmes.
The growth of Limerick Mental Health Association
LMHA has also undergone many changes – it has grown and flourished and now encompasses several different strands:
The Le Chéile peer support project in its building on 3 Sexton Street;
The Men's Shed group located in the gardens of St. Joseph's Hospital on Mulgrave Street;
Limerick Mental Health Week, held in October each year, with input and collaboration between various local mental health agencies; and
Wellness Recovery Action Planning (WRAP) training programmes.
The Board of Management has changed completely since 2015, and new regulations around the governance of charities have added levels of oversight and reporting to the management of LMHA's services. At every Board meeting, great ideas are proposed, and the Board considers the benefits and practicality of all suggestions. But as we have only limited resources of funding, personnel (voluntary and paid), and time, we need to decide how to focus our energies on the areas and projects that would have the most positive impact in line with our goals. Therefore, the Board decided in early 2016 to draw up a strategic plan.
Developing Limerick Mental Health Association's Strategic Plan 2018-2021
We engaged a skilled external facilitator, Mary Blackmore, to lead workshops to help us to decide on our mission, vision and values. Moreover, with the help of facilitator Sinéad Doody, we reviewed the organisation's strengths and weaknesses, opportunities and threats, and began to form a set of aims for the future of LMHA.
Many workshops were held throughout 2017 and into 2018 to capture the voices and needs of various stakeholders, including members of LMHA/Le Chéile, families and carers, mental health professionals, as well as other local organisations working in mental health. At the end of the process, we had an agreed set of goals, which are to:
Offer quality supports and services which meet the recovery and wellness needs of our members;
Promote community mental health and wellbeing through information, training, events and campaigns;
Strengthen our links with families, supporters, communities, the HSE, and other mental health stakeholders to improve our members' recovery journeys;
Ensure our organisation is effective and working to best practice standards.
For each goal we have specific objectives, and also actions to meet those objectives. All these concepts were put together into a single document, our Strategic Plan 2018‑2021.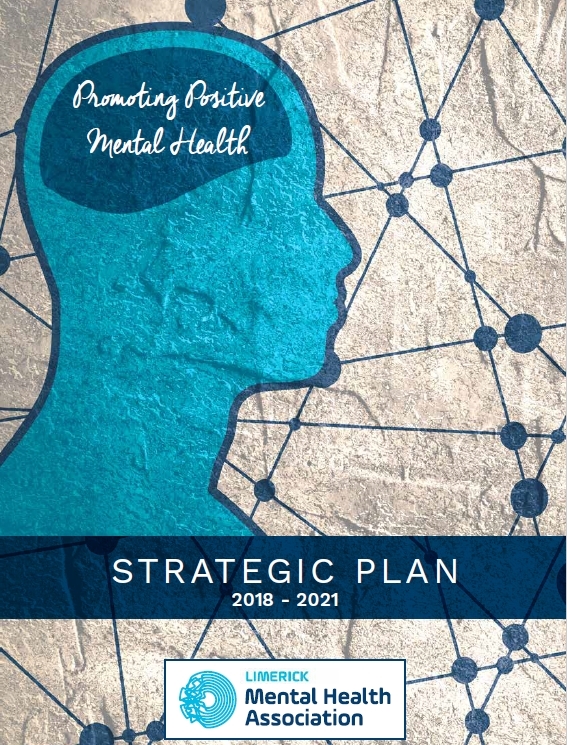 Launch of Strategic Plan
The Strategic Plan was launched publicly on 17th May 2018 at the Engine Innovate Centre on Cecil St. in Limerick. Everyone involved in the development of the plan was glad to see it finally on paper and now we can get stuck into the actions to meet our goals.
In addition, the launch was a lovely, inclusive event, with speeches from the LMHA Chairperson, Dr. Jennifer McMahon; the Project Manager at Le Chéile, Claire Flynn; also speaking Chief Executive Officer of Mental Health Ireland, Martin Rogan; Board member and peer volunteer, Dr. Tina Storey; a reading of her short story about Le Chéile by a member of the Writing Group, Noreen de Barra; the performance of her original composition "How wonderful you really are" by Amy Fleming and the Music Group; as well as a general sing-song with the assembled company.
The Board of Management of LMHA would like to extend its sincere thanks to everyone involved in the development of the Strategic Plan. The Limerick Mental Health Association Strategic Plan 2018-2021 is free to download and can be obtained by clicking here.