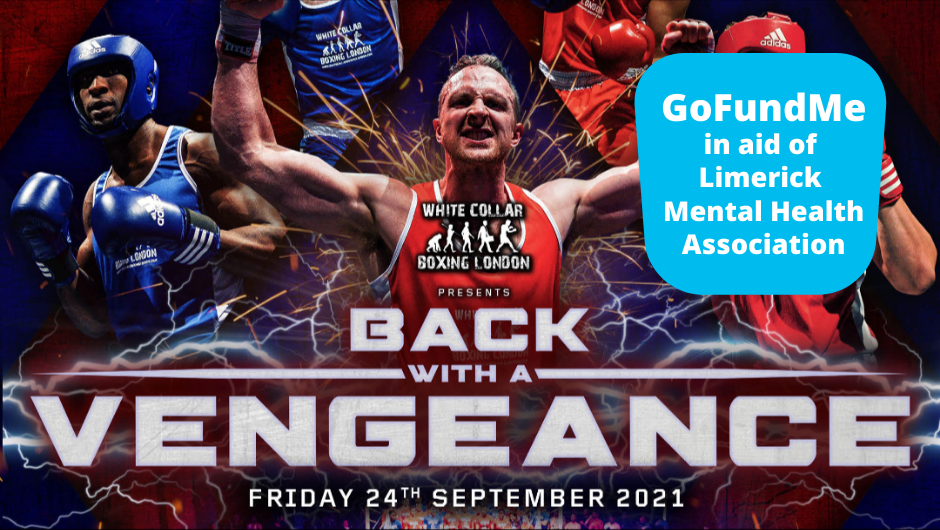 Gavin Harty, a 24 year old Limerick man is raising funds for Limerick Mental Health Association by taking part in a white collar boxing event in Central London on the 24th of September.
Originally born in Oola, Gavin moved to London two years ago for a "change of life". He has worked in care for the past five years and promoting positive mental health is something he is extremely passionate about.
These last 18 months have been especially hard on people's mental health, not being able to see your love ones, people's life just at standstill and coping with this pandemic can be very challenging , people who are suffering could feel there is no help out there but this organisation promote the the care of people's mental health and helps them cope and manage their mental health. I couldn't think of a better organisation to raise money for.
Gavin has dreamt of taking part in a boxing event so jumped at the opportunity, "They help people who want to get out of their comfort zone and in 10 weeks go from no training to having a boxing fight. There are around 24 people doing this at the moment and we will be matched up against each other and have a fight on the 24th of September in the Troxy arena in front of 2,000 people. They train us and give us diet and training advice to get us ready for the big day."
White Collar Boxing London is the UK's No.1 boxing charity event and participants are asked to raise funds for a charity of their choice. Gavin chose Limerick Mental Health Association as he believes in the work they do to promote positive mental health in Limerick. Mental well-being is a cause that is close to his heart.
"Mental health being a silent killer, especially with the younger generation. Many of my family and friends are battling with their mental health during these tough times. Knowing that there is a place where they help and encourage healthier mental and physical health makes me want to do whatever I can to give back."
Speaking about Gavin's fundraiser, LMHA manager Tracey Corbett Lynch commented:
We are so grateful to Gavin for picking LMHA as his chosen charity. In 2021 we have seen 100 percent increase in service users. We would not survive only for the kindness of members of the public raising funds to keep our doors open.
For more information about White Collar Boxing London click here www.whitecollarboxinglondon.com
If you would like to support Gavin and Limerick Mental Health Association you can donate on his GoFundMe page here https://gofund.me/8c0f7f53.