Article written by Jason O'Donnell – a member of Limerick Mental Health Association who enjoys Friday music classes at the Milk Market and encourages others to try it out.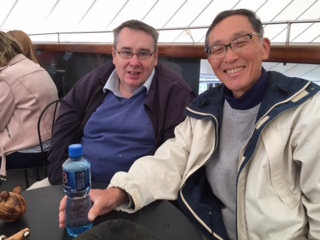 Waiting for a bus one night in Cahir, Co Tipperary, I got talking to a lady from Limerick. Telling her I was from Tipperary Town, I remarked upon the lack of amenities in that forsaken place. "You should go to Limerick", she replied, "they have lots of things going on there". I spoke of the high levels of depression and suicide in the Tipp area. "There is a drop-in place for mental health in Limerick", she said, "they do a lot of good things there". So, I took her advice and checked it out.
Music Therapy
One of the very good things Limerick Mental Health Association organises is a music/sing-song get-together upstairs at the Milk Market every Friday afternoon between 1.30 and 3.30pm. People sit around with assorted guitars, tambourines, shakers, and whatever else is on hand, and sing songs to uplift the soul and chase the blues away. Everyone is welcome, you don't have to be a musician or anything like that, if you like to play something, all the better but no pressure. It's nice and relaxing just to sit there and if a favourite song crosses your mind, suggest it to the group and let rip. Music as therapy is the whole point of the event.
Inner Peace
When I visited one Friday, a Japanese tourist couple, husband and wife, dropped in when they heard the music from below in the market. They told me they were Buddhists. I said "Buddhism is becoming quite popular in the West with the growth of mindfulness and meditation". It has a lot of good principles to do with inner peace and so on. I had to give them that.
"But", I said, "you have no theory of salvation. What are you going to do when you die?" At that very moment a woman stood up and starting singing "Amazing Grace". We all joined in and the Japanese couple seemed to be familiar with the song. "I was blind but now I see". It was quite a moment. I said to the man: "I don't know very many famous Buddhist songs". He laughed and said: "No! All we have are mantras! Da da da!"
Empathy Orchestra
I knew "karaoke" has its origins in Japan, so I asked the man the meaning of the word. "It's made up of two words", he said. "One word means 'empathy' and the other word means 'orchestra'. So karaoke means something like 'empathy orchestra' ". I suggested to the man that would be a good name for this group of people right here meeting together to join in song. He agreed. Music can hold you. And music can keep you. And music can get you through.
If you would like to know more about music classes at the Milk Market, contact Claire at Le Chéile on 087 2485742 or email info@limerickmentalhealth.ie