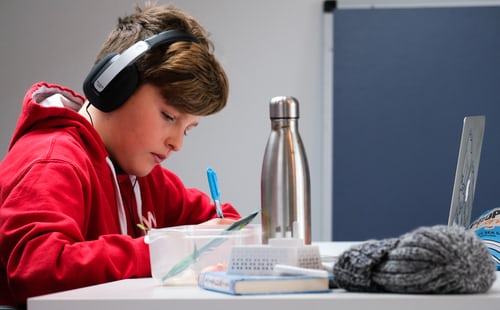 Like thousands of others, Caroline considered her daily schedule to be pretty full even before the Covid -19 pandemic hit last March. At that point, her weekdays were already a whirlwind of football training, homework and music lessons which she juggled with her own demanding career as an office manager. She says "As a single mother to two boys, life was busy, of course, but we managed it well. Covid came along and just blew all that out of the water".
Overnight, Caroline was found herself in a new role as teacher to her two sons, who are now in first and fourth class, while attempting to work her own full-time job from her bedroom "I actually didn't find it too bad during the first lockdown." She says. "I got it wrong, in the sense that I presumed it would be a short-lived thing. This current lockdown has been much more difficult in our house and a lot of that is down to just not knowing when it will end now."
Research into home-schooling undertaken by the school of Education at NUI Galway has highlighted the main difficulties experienced by families in Ireland. It found that many students felt they learned less, were less motivated and were more anxious when the schools initially closed back in March of last year. A lack of access to technology was also a concern for students as was the loneliness and isolation of being away from classmates.
From a parental perspective, the pressure of juggling their own work with teaching their children was the main stressor reported. Caroline is in full agreement. "Some days I'm just in survival mode. My job involves a lot of client calls and, more often than I'd like, I just have to get a cartoon on for them to make sure I get that uninterrupted fifteen minutes. That can make me feel a bit guilty but it's a crazy situation and I'm doing the best that I can."
With no timelines yet announced for school re-openings here in Ireland, it is possible that the current situation could continue for weeks to come. We have put together some tips to help make the remainder of your home-schooling days run as smoothly as possible.
Get dressed! It's very easy to fall into hibernation mode during lockdown but lounging in pyjamas won't help to promote productivity for anyone. You can also look forward to putting them on in the evening when relaxation time comes round again.


Make a timetable. OK, it may go out the window most days but it is still a good idea to have one written down which you can fall back on. In fact, just writing out a schedule of what you plan to do can help promote a sense of control and order for the household before the learning even begins.


Get some daily outdoor exercise. Yes, the weather hasn't been great but that's what wellies and raincoats are for! Making the effort to get at least thirty minutes outdoor activity for you and the kids will pay dividends when it comes to better sleep and better moods for all. You could even make some of the outings into a nature walk and learn as you move.


Be kind to yourself. This is an unprecedented and incredibly difficult time for parents. Do what you can and don't beat yourself up if you can't do more. If you need a break, take one. Remember that you are not alone in your struggle.
Finally, remember that help, if needed, is available from:
---
Written by AnneMarie McDonnell, a volunteer with the Limerick Mental Health Association and graduate of the University of Limerick.