Importance of Mental Health Week
Being a part of Limerick Mental Health Week has been a very important aspect of our work each year. This week allows our services become visible in a creative and safe space so the community can engage and become aware of the spectrum that is mental health. Awareness of the services that are available when you feel you need extra support is essential to tackling any form of distress you may encounter.
Limerick is a very collaborative space and MyMind always enjoys collaborating with the other services and the community to create a week dedicated to such an important topic that is mental health. This year MyMind is hosting an event in Bedford row on Saturday 15 th called 'Chair to Share' where we will be inviting members of the public to connect with each other and share your mind for MyMind.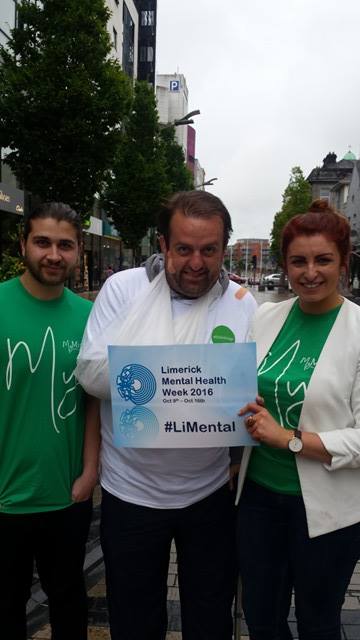 Who are MyMind?
MyMind Centre for Mental Wellbeing was founded in 2006 as a not-for- profit community based provider of accessible mental health care.
At the heart of our mission is a belief that positive mental wellbeing should be within everyone's reach.
We now have centres in Dublin, Cork and Limerick, providing a wide range of clients with counselling and psychotherapy services. MyMind also offers the option of psychological assistance via online therapy sessions. These are delivered via videoconferencing over the internet and can be useful for people who are unable to come to one of our four centres. Through online sessions, the client is able to have regular therapy sessions from the privacy and convenience of their own home
It is MyMind's vision that everyone has quick and easy access to affordable mental health services. MyMind charges our clients fees based upon their employment status, allowing the unemployed or full time students to access our services at reduced rates. MyMind is a social enterprise, so revenue generated from our full fee clients is reinvested into the organisation, enabling us to provide services that are affordable to all.
It is easy for a client to self-refer to MyMind, appointments are usually made within 72 hours of a client contacting our office.
MyMind has a multidisciplinary, multicultural team that is able to provide services in more than ten languages.
Our affordable and timely mental health services mean people have the best chance of getting back to a positive frame of mind sooner and with lasting results. We impact the lives of individuals and their families, their communities, and Irish society as a whole.
If you would like any more information on MyMind and our services, please go to www.mymind.org