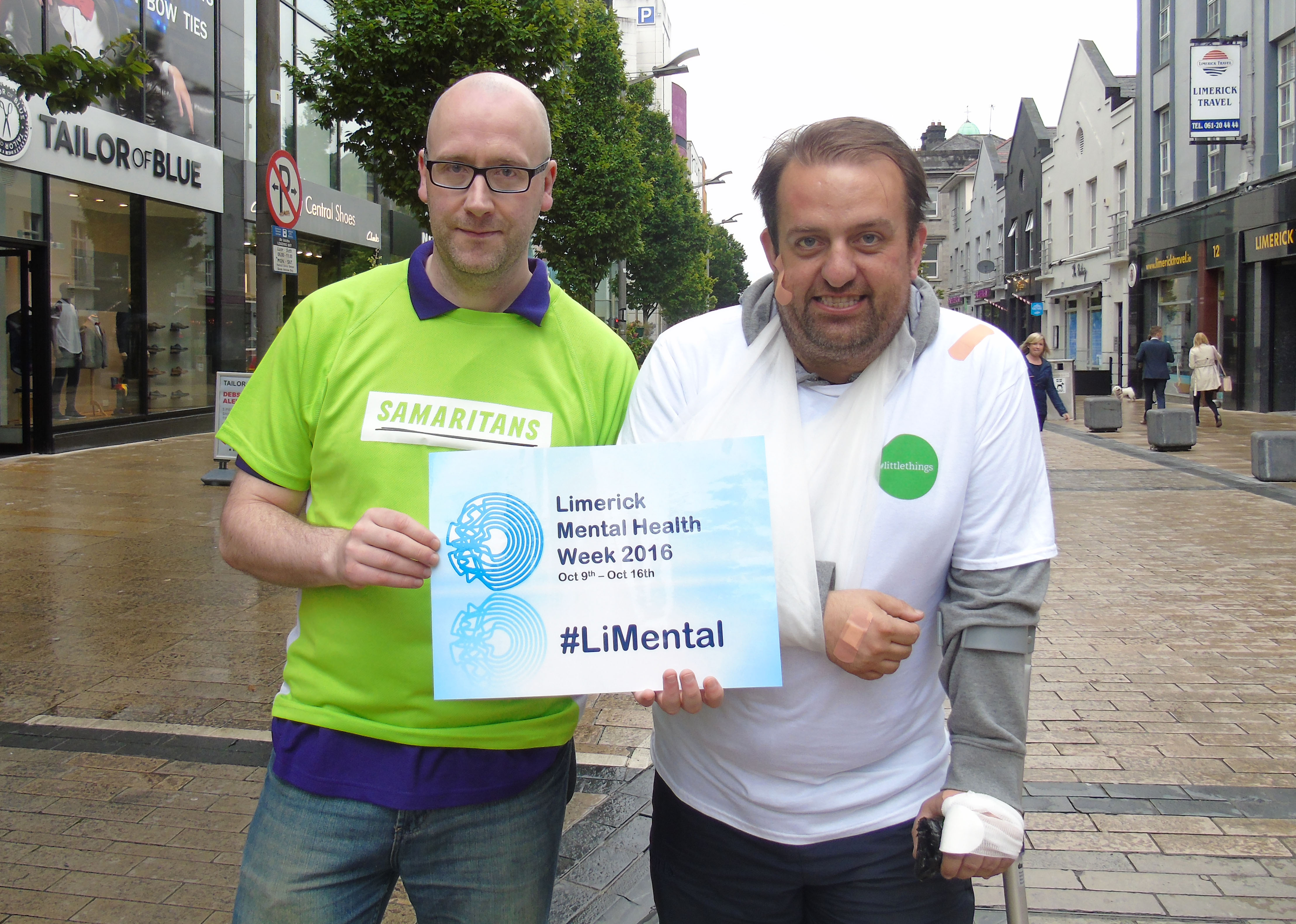 Importance of mental health week
Limerick & Tipperary Samaritans are delighted to be part of Limerick Mental Health Week again in 2016.
It is a great initiative that will raise awareness of mental health in the local community. It is important to generate discussion, reduce stigma and promote positive mental health and wellbeing.
Furthermore, it serves as an opportunity to highlight the range of supports and services that are available within the local community to support our mental health.
Who are The Samaritans?
The Samaritans have been in Limerick since 1975 and currently have approximately 150 trained volunteers. We provide emotional support round the clock for anyone experiencing feelings of distress or despair. We provide a safe space to talk about how you are feeling and we keep all conversations private.
As well as being available to talk on the phone at any time, visitors are also welcome to our Centre at 20, Barrington St. in Limerick 365 days a year. You don't need an appointment and the service is completely free of charge.
As well as answering telephone calls, emails and texts, and spending time with people who call in, we are also engaged with the community outside the branch.  Our outreach work includes working with schools, the local prison, third level and other organisations to help people in distress and to make sure that people are aware of our service.
Why call The Samaritans?
There is no typical person who calls Samaritans 116 123 freephone helpline. There's no typical problem that people talk to us about.
People talk to us about job stresses, being out of work, money troubles, family struggles, relationship issues, trying to measure up, feeling alone, feeling worthless, feeling sad or angry all the time, getting into trouble, being abused, feeling suicidal, self harming…..
When you contact us, a Samaritan volunteer will answer. We're there for you to talk about how you feel. We freely give you our time and attention.
We listen to you and help you talk through your worries and troubles. We're not afraid to explore difficult areas with you. Samaritans don't judge, keep things anonymous and all conversations are confidential.
We help people to explore their options and support them in making their own decisions.
We're available 24 hours a day 365 days a year. We're available by phone, email and SMS so that we're here when you need us. You don't have to wait for an appointment or for office hours.
Sharing your troubles with someone who gives you time, attention and tries to see things from your point of view can be a relief and comfort. In fact, just knowing someone is there in case you need them can make you feel better. By listening to you and talking through your troubles, we may help you see things more clearly.