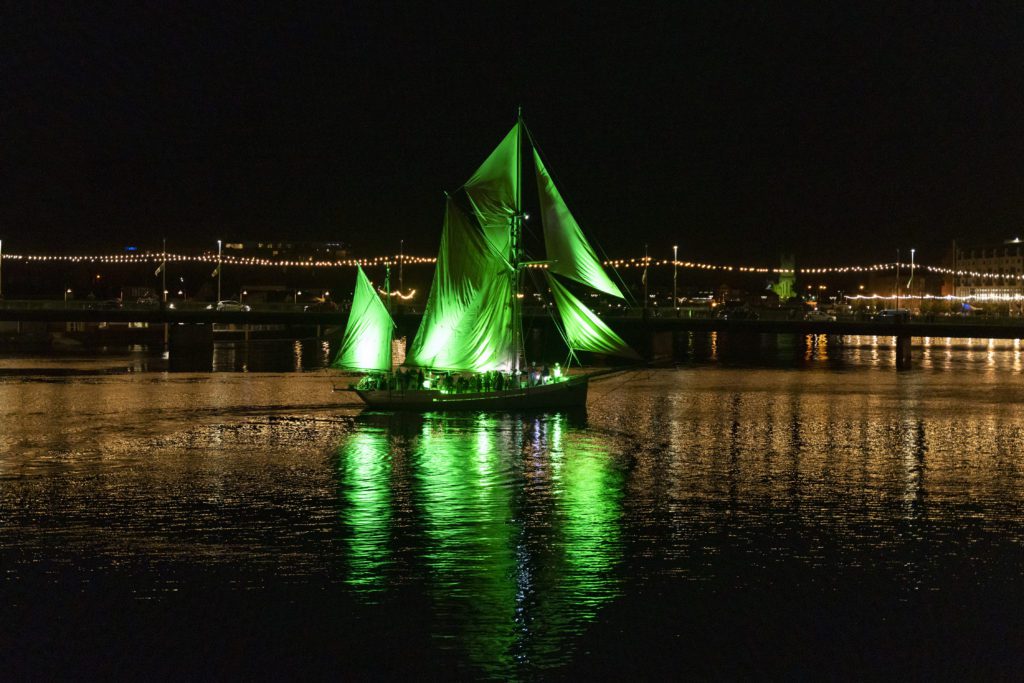 Thank you to everyone who took part in or supported Limerick Mental Health Week 2021. The aims of Limerick Mental Health Week were: to get people talking about their mental health; to highlight the increased demand on mental health services across Limerick; to emphasise the need for extra funding to meet this increased demand; and to increase collaboration among all the stakeholders involved in the provision of mental health services in Limerick.
We wanted to have a high profile launch of Limerick Mental Health Week this year because of the surge in demand for mental health services being experienced by all the stakeholders involved in mental health in Limerick. We in Limerick Mental Health Association have seen a doubling in the demand for our services, with much of this demand fuelled by Covid-related anxiety. Limerick already has the highest suicide rates in the country, and urgent action is needed to fund mental health services in the city and county.
Limerick Mental Health Week was launched on Friday, October 8, with the spectacular arrival of the Ilen, the last of Ireland's traditional wooden sailing ships, into Limerick. The Ilen's 42 foot sails were lit up in green as she arrived at dusk into Limerick city. In a remarkable show of support, buildings across the city and county were also lit up in green as a gesture of solidarity for all those struggling with their mental health. King John's Castle, Limerick Council chambers at Merchant's Quay, St Mary's Cathedral, UL, LIT (now TUS), MIC, Limerick School of Art and Design, Limerick Civic Trust, Limerick's Maternity Hospital, Adare Manor, the Clayton Hotel, and a number of Limerick city traders and chamber companies were all it up in green to support the launch of Limerick Mental Health Week. There was an important symbolism in the buildings which lit up in green. They represented the city's history, civic leaders, universities, hospitals, and businesses all coming together, lit up in Limerick's county colours, to show their support for those in need of help with their mental health. It was literally and symbolically shining a light on mental health.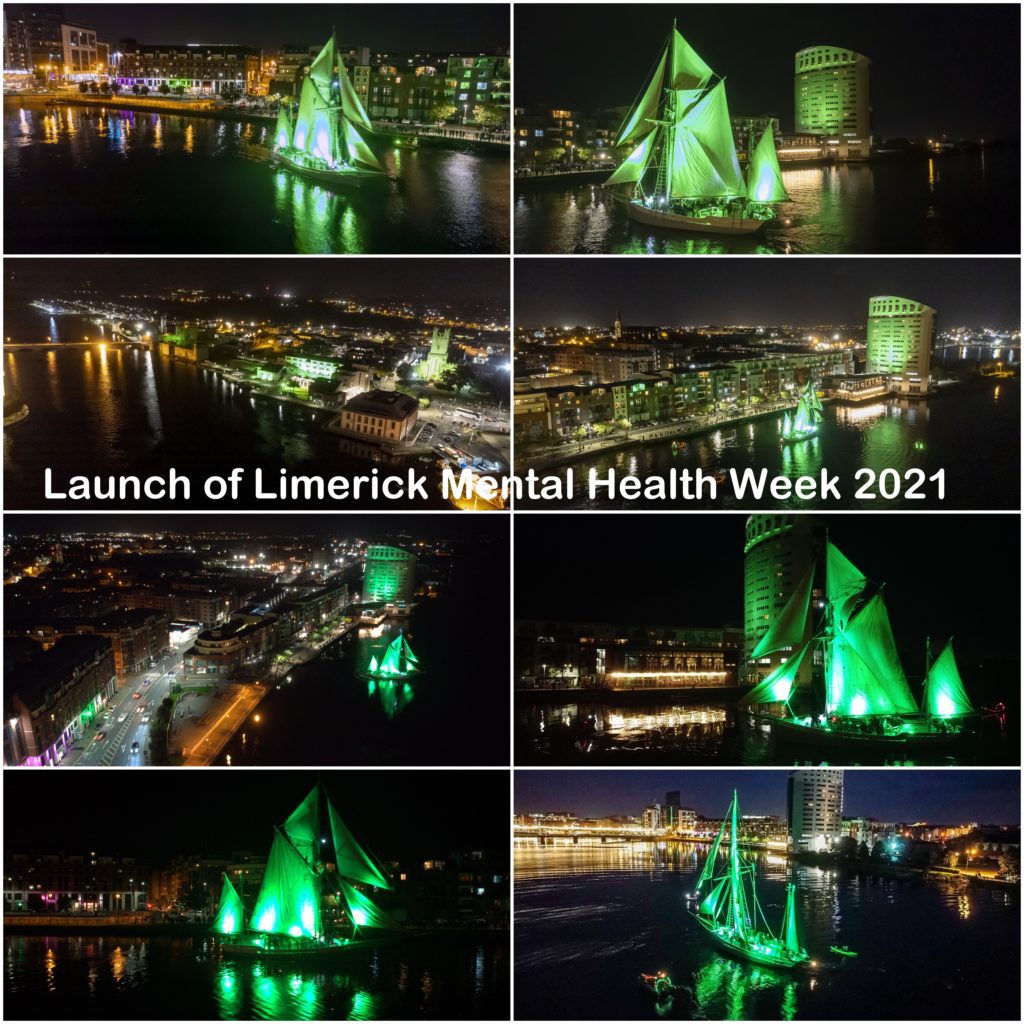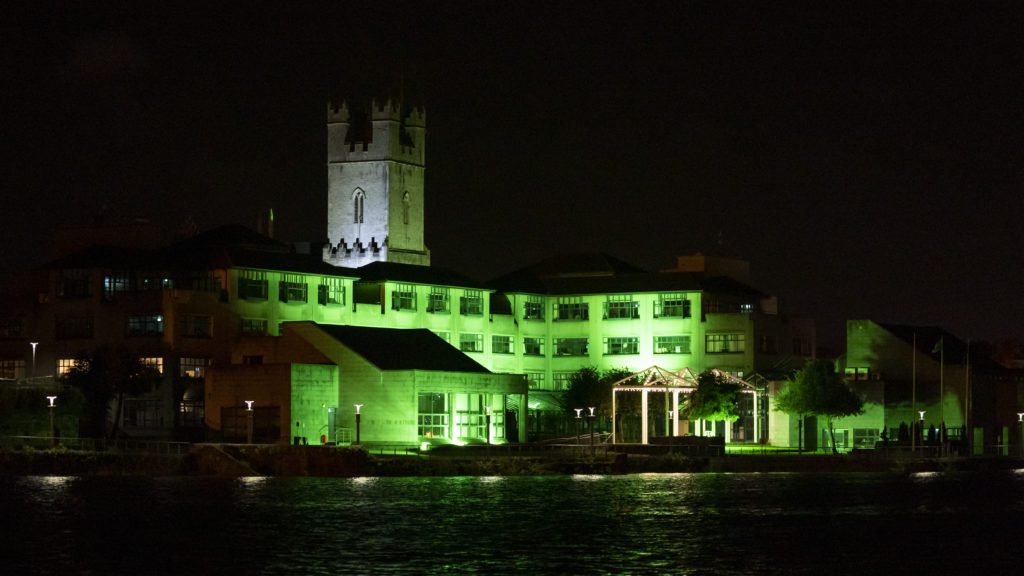 Limerick Mental Health Association invited 75 stakeholders involved in the provision of mental health services in Limerick to the Clayton Hotel to watch the Ilen's arrival, which was also live streamed for the wider public. On board the Ilen, Mayor Daniel Butler officially launched Limerick Mental Health Week. Emma Langford sang beautifully. Then the Mayor joined Emma, Irish hockey star, Roisin Upton, and Limerick hurler, Adrian Breen, in laying white roses on the River Shannon in commemoration of the 294 Limerick lives lost to Covid. This was Limerick's cultural (Emma Langford) sporting (Roisin Upton, Adrian Breen) and civic community (Mayor Daniel Butler) coming together to highlight the importance of us all talking about our mental health, and acknowledging that Covid has already caused immense suffering, and will continue to have an impact on our community's collective mental health for some time to come. We were very grateful, in particular, for the support of Limerick's university students who volunteered their time to line Shannon Bridge and light up their phones to welcome the Ilen into Limerick.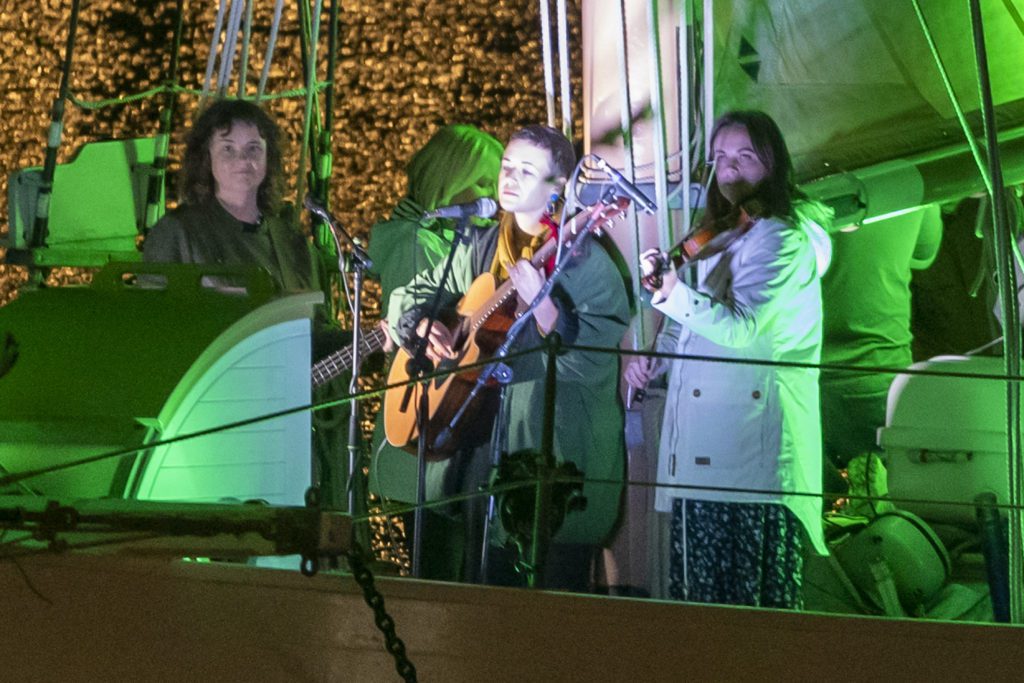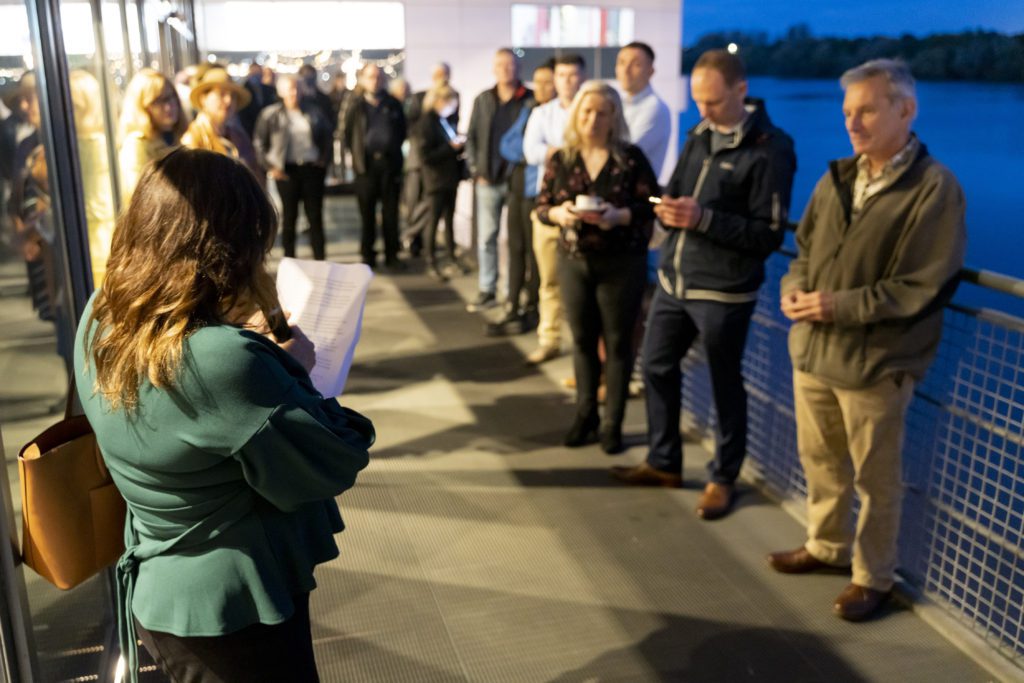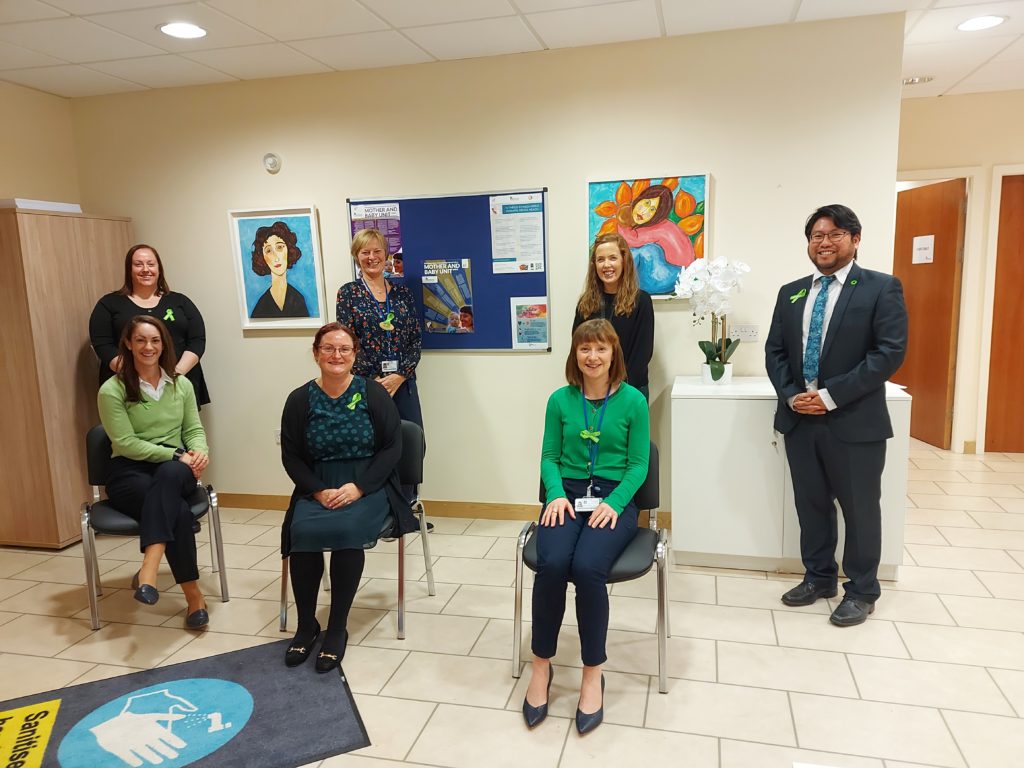 On Sunday, October 10, which was World Mental Health Day, we held a simultaneous yoga event in collaboration with GROW, and sponsored by Atlas Fit, a company which specialises in a combined approach to physical and mental health. Yoga instructor, Bobby Jones, live streamed a yoga session from the sports hall in TUS, where he was joined by students from TUS and UL. The GROW building on Henry Street hosted a simultaneous yoga experience, with members of the public also joining in via the live stream. Thank you to all who took part.
We began our lunchtime talks series on Monday October 11 with award-winning Limerick historian, Sharon Slater. Sharon told the extraordinary story of Rosina Lytton Nėe Doyle whose false detention in an insane asylum provoked a public outcry. Her husband was a politician and writer who coined famous phrases like "the great unwashed", and "the pen is mightier than the sword". We are immensely grateful to Sharon, and you can read more of her fascinating Limerick history tales on www.limerickslife.com.
Sharon's talk was followed by an online motivational talk from VHI Wellness Ambassador David Gillick, talking about his life on and off the athletics track. David's talk looked at ways of cultivating a healthy mindset, managing stress and building resilience.
On Tuesday, October 12, Mayor Daniel Butler launched a fascinating photovoice exhibition at the Limerick City Gallery of Art. MYSTORY is an exhibition of photographs taken by students around the theme of mental health and youth suicide. The exhibition is a collaboration between Jennifer McMahon of the UL psychology department, Eibhlin Walsh, a UL doctoral student, and John Real of Limerick Youth Service, all working with Be Well's youth advisory panels to better understand school-based suicide prevention and mental health in Ireland through photography.
Tuesday's lunchtime talk on the subject of 'meaningful disconnection' was hosted by John Hickey, lecturer at ICHAS. John talked about finding time and space and focus to healthily disengage from the busy demands we would face as society re-opens after Covid. John gave some excellent tips on how to re-engage with the self, adding a better balance to one's life.
On Wednesday, October 13 GROW Area Coordinators, Amie Hughes and Michael Crowe, delivered a fascinating talk on managing stress and anxiety as people return to the workplace. Members of the public gathered at GROW's building in Henry Street, and the event was also live streamed.
It's not just humans who suffer from anxiety, our pets do too. Rockhall Veterinary hosted an online talk on 'managing separation anxiety in your pet as we return to the office.'
On Thursday, October 14, Limerick Youth Service launched its short film, Break The Silence. Created by young people with LYS's Be Well Youth Advisory Panel, the film promotes the importance of talking about our mental health. LYS kindly allowed Limerick Mental Health Association to play the video as part of the launch night for Limerick Mental Health Week, and there was universal agreement that the video sent a powerful message. 
LMHA's lunchtime talks series continued on Thursday at St Mary's Cathedral where an audience was treated to a captivating talk by Dr Triona Waters. Dr Waters earned her PHD in History with her thesis on St. Joseph's Psychiatric Hospital. She discussed how St Joseph's was used in 19th Century Limerick, how it developed over time and its leading purposes. 
Limerick Mental Health Week concluded on Friday, October 15, with a lunchtime talk at St Mary's Cathedral by Craig Madigan, a live-in social worker caring for vulnerable teenagers at Compass Child and Family services. Craig sees the mental health challenges faced by vulnerable teenagers every day of his working life and it was great to see so many students from across Limerick's universities attending this talk.
We would like to thank all of our sponsors and partners who helped us organise Limerick Mental Health Week. We would also like to thank everyone who spoke about their own mental health experiences, including Emma Langford, Roisin Upton, and Adrian Breen.
The main aim of Limerick Mental Health Week was to encourage people to talk openly about their mental health. So, to all those who have taken that first step and spoken to someone about your mental health, thank you. There are passionately committed groups and organisations across Limerick all working together to ensure that help and support is there when you need it.