A Wellness Recovery Action Plan (WRAP) facilitator training course will be taking place over five days from the 21st to the 26th of April 2017.
What is WRAP?
WRAP is a prevention and wellness process used by people to get well, stay well and improve their overall mental health and well-being. It was developed in 1997 by a group of people who were searching for ways to manage their own mental illnesses. It is now commonly used by people in many different circumstances to address physical health, mental health and other issues in life.
What does WRAP teach you?
To find your own personal wellness tools that can help you in times of need
Enables you to develop a list of things you can do every day to maintain your wellbeing
To identify triggers, early warning signs and signs that things are going downhill in life
Teaches you to use your wellness tools and develop action plans for responding at these times
To make your own crisis plan and post crisis plan for you and others to follow if you need it
What will the course cover?
The values and ethics of WRAP
Facilitation skills
Practice at speaking in public
Practice at answering difficult questions about WRAP
Presenting WRAP with a co-facilitator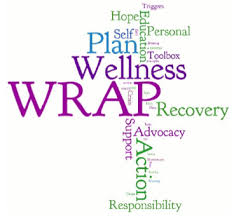 What will it cost?
The cost of the 5-day training course will be €700. Completing the course without the manual reduces the cost to €550. The training is being subsidised by the trainers to make sure the course is affordable for all, and payment plans are available.
Who should apply?
We're aiming the stage two facilitator course at those who:
Want to co-facilitate the stage one programme
Have a good understanding of WRAP
Are ready to share about how they use WRAP in their belief in recovery
How can I apply?
To book a place on the course, email info@limerickmentalhealth.ie or call us on 087-2485742.