Written by Nicole Russell, a volunteer with the Limerick Mental Health Association and psychology graduate of the University of Limerick.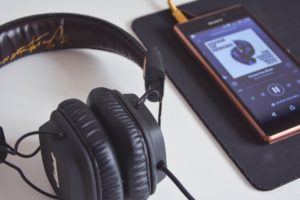 Monitoring and maintaining mental well-being can be quite a difficult task – there are good days and bad days and sometimes you need external sources to help you in this daily battle. It turns out that podcasts are an easy and accessible way to do just so! Here, I outline just a few of the many, many podcasts out there that can help you understand and monitor your mental health. So, whether you're mindlessly doing household chores, getting ready for bed, or in the car on your way to work (or on your walk to your desk at home!), put on one of these podcasts to get you thinking of different ways to approach and manage your mental health.
1. Where is My Mind? by Niall Breslin
Irish musician Niall Breslin has not shied away from using his platform to speak about mental health, and this podcast is a great example of his dedication to the promotion of mental well-being. Where is My Mind? touches on a range of topics, from the technology that's constantly plaguing us to coping with daily stressors, in a way that normalises the struggles we face in this intense world we are living in. Episodes are around 40 minutes long, and there is also the option of an additional 15-20 minutes of guided, mindfulness-based meditation to help you build the skills and techniques to stay focused in the present moment.
Available on: Spotify, Apple Podcasts, Stitcher
2. The Daily Pep! with Meg Kissack
If you're short on time, this is the podcast for you! Rarely over 5 minutes, this podcast focuses on one topic for a daily pick-me-up. From exploring your dreams to finding your self-care routine, Kissack's episodes strike the perfect balance of helping you be easy on yourself and encouraging you to make the most out of your life. Though aimed towards creative women, the joyful episodes of this podcast can be applied by anyone to any part of their daily life!
Available on: Spotify, Apple Podcasts
3. Owning It: The Anxiety Podcast by Caroline Foran
If her soothing voice wasn't reason enough to start listening to this podcast, Foran's straight-edge honesty about her struggles with anxiety definitely will be. As the bestselling author of Owning It: Your Bullsh*t-Free Guide to Living with Anxiety, Foran has taken to the audio world to speak with others about their experiences with anxiety as well as sharing her own. The chatty atmosphere in each episode makes you feel like you are talking to your friend about your battle with anxiety and not just listening to others discuss it. Foran manages to impart valuable knowledge of the biological, environmental, and psychological causes of your excessive worrying without over-complicating the matter or sounding condescending. With episodes ranging from 10 to 70 minutes, this real and raw podcast succeeds in normalising the feelings of anxiety and helping you learn how to take control of it. 
Available on: Spotify, Apple Podcasts, Acast, Stitcher
4. Let's Talk About Mental Health by Jeremy Godwin
Let's Talk About Mental Health is a weekly podcast by Australian writer Jeremy Godwin. As someone with a history of severe anxiety and depression, Godwin wanted to provide a space for an open and honest conversation about mental health – and the Let's Talk About Mental Health podcast was the perfect place for him to do just that! Godwin's 30 minute episodes focus on specific mental health topics, such as self-esteem, grief, and addiction, while also providing research-based, practical advice for listeners to apply to their own lives. This podcast provides the space to help you work towards a better you, one episode at a time.
Available on: Spotify, Apple Podcasts, Stitcher, iHeart Radio, YouTube
5. The Happiness Lab by Dr Laurie Santos
Yale professor Dr Laurie Santos takes to the podcast world to discuss, well, happiness. Basing her episodes on the scientific research available on happiness, Dr Santos uses her extensive knowledge to teach you how to be happier by making wiser and more fulfilling life choices, and to look at happiness in a different way. Worried about the increasing levels of depression and anxiety in her students, Dr Santos designed a class to help them understand the science of happiness. The undeniable popularity of this class has encouraged the production The Happiness Lab podcast, to share this knowledge with all of us that cannot attend Yale. From discussing the downsides of positive thinking to the perks of altruism, Dr Santos is determined to make you feel happier through her 30-40 minute episodes – and definitely succeeds!
Available on: Spotify, Apple Podcasts, Acast, Stitcher, iHeart Radio