Welcome to the first post of our new series, which will give Limerick based bloggers a platform to speak about different aspects of mental health on our blog. Kicking it off we have Eilis Walsh from No Cat Got My Tongue telling us all about mindfulness.
What is mindfulness?
Your mind is one of the most important tools you have to function properly and healthily. But what is mindfulness? Well, mindfulness is about practicing awareness, about being present in the moment rather than being caught up in worrying about the past and anticipating the future.  Many people struggle with the concept, finding it hard to focus their thoughts on relaxation.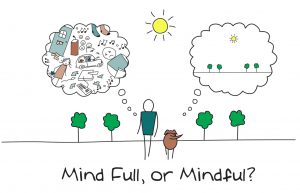 A brief history
Mindfulness is not something new, in fact Buddhists have been incorporating it into their teachings for centuries. Jon Kabat Zinn is the leading expert on mindfulness, having developed an eight week programme called Mindfulness Based Stress Reduction (MBSR). The aim of the programme teaching people coping mechanisms for stress.
The effects of mindfulness
Due to practicing mindfulness, most people experience more of an understanding of their bodies. They figure out what triggers their own stress and learn how to reduce their reactions to stressful situations. Scientific studies have been done to examine the effect mindfulness practice has on the brain. According to the Scientific American, the results showed that the amygdala (which is the part of the brain associated with fear and emotion) seems to shrink after 8 weeks of mindfulness practice. This means emotional response to stress is reduced.
Ways to practice
Body scanning. Sit or lie comfortably, and get rid of any sort of distraction like a phone or television. Close your eyes and focus on relaxing each body part one by one. This meditation primarily focuses on breathing.
Positive psychology. This can work wonders on your stress and self-criticism, but it needs to be practiced often. Some ideas include limiting toxic people and environments for ten days; practicing self-compassion by reminding yourself what you have achieved so far and are proud of; practice gratitude by reminding yourself of 5 things you're grateful for from the day before going to bed; focus on having mindful moments during the day, living in the moment and appreciating nature.
The science behind it all
It's been proven that by rigidly practicing mindfulness and positive psychology that the release of serotonin (i.e. the primary chemical for happiness) is radically increased from your neurotransmitter in your brain. To explain, a lack of serotonin can lead to depression and anxiety so it's extremely important that your serotonin levels are monitored.
Universities getting involved
The University of Limerick itself has daily relaxation workshops upstairs in the Millstream building for its students and Mary Immaculate College has facilities in place as well for their students. I myself have availed of the services in UL and they really helped me understand myself more.
Apps to get you started
I spoke to a friend of mine who is currently doing his masters in Work and Organizational Psychology about different apps and methods he found useful while practicing mindfulness and well-being. He suggested:
Calm, an app that you can download as a free or paid version.  The paid version gives you meditation sessions of 11 to 14 minutes long, there's a calming female voice in all of the sessions and you choose from all sorts of different backgrounds and music.The app tracks how many days in a row you've meditated (your streak), and your total meditation time. Calm also gives you different week long programs which tackle different areas of difficulty you may have in your life e.g: managing stress, focus, calming anxiety sleep, self-esteem and happiness. A friend of mine, a 23 year old male who regularly uses the paid version of the app said,
"I usually find meditation quite difficult but the sessions are short and guided, so it keeps my attention. I would recommend the paid version because you can do sessions that cater to specific problems".
Daylio is another app that allows you to track your mood and different activities you've done throughout the day, helping to identify what helps to maintain your mental health. You can add notes to every day, so its almost like an online diary.
Mind your mind
Your mind is such an important tool, equal to that of the physical body. If your mind suffers, your physical health suffers, and so on. Don't expect instantaneous results overnight when working on mindfulness, it takes time. But having put some of the key parts of mindfulness into practice such as positive psychology and forms of meditation, I genuinely do feel better in myself.
Written by Eilis Walsh from No Cat Got My Tongue.